FEATURED NIAGARA BUSINESS
Niagara Youth Orchestra
Work
12-111 Fourth Ave., Suite #148
St. Catharines
Ontario
L2S 3P5
Canada
work
Email
:
zhfvp@avntnenlbhgubepurfgen.bet
INTERNET
Website
:
http://niagarayouthorchestra.org
Business Profile
Founded by Paul van Dongen, the Niagara Youth Orchestra is the premiere training ground for young orchestral musicians under 25 years old in the Niagara region.  Led by professional coaches and conductors who are affiliated with orchestras across the province, the junior and senior members of the Niagara Youth Orchestra receive extensive music education and performance experiences through regular concert seasons and special events. Membership in the orchestra is by audition and can be scheduled by emailing us at music@niagarayouthorchestra.org.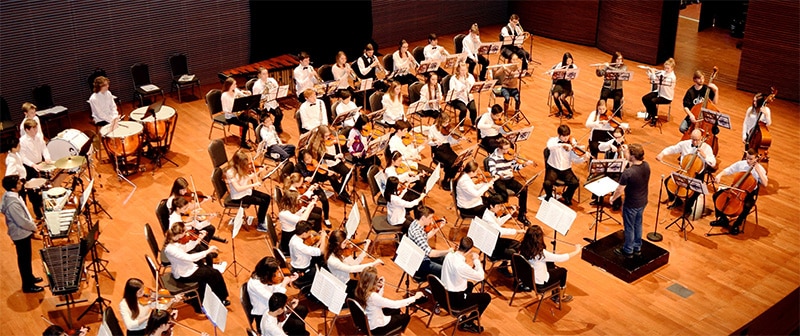 The Junior Niagara Youth Orchestra (JNYO) provides young musicians with the opportunity to develop their skills by working with coaches and the conductor, exposing them to challenging music in both their individual ensemble groups and as an orchestra as well as providing them with performance experience.
The Senior Niagara Youth Orchestra (NYO) provides an excellent training ground for young musicians who have had a minimum of two years of private instruction on their instrument. Many NYO musicians continue to pursue professional music careers. Music repertoire is chosen to help build their knowledge of great Classical and contemporary works. There is a mix of elementary, high school and some university musicians in this group.
Laura Thomas is the Music Director and Conductor of the NYO, our senior orchestra and Michael van Dongen is the Music Director and Conductor of the JNYO, our junior orchestra. They are both long-time members of the Niagara Symphony Orchestra.
The Beginner Program launched in 2014 and is intended for aspiring musicians aged 7 and up. These group beginner lessons are led by professional coaches affiliated with orchestras across Ontario. No audition or experience is necessary, but you must supply your own orchestral instrument and music stand.