FEATURED NIAGARA BUSINESS
Riverbrink Art Museum
Work
116 Queenston Street
Niagara-on-the-Lake
Ontario
L0S 1J0
Canada
work
Phone
:
905-262-4510
work
Email
:
znantre@evireoevax.bet
INTERNET
Website
:
http://riverbrink.org
Business Profile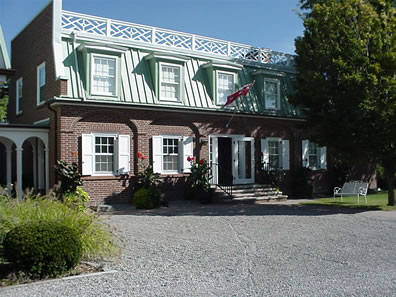 RiverBrink Art Museum, located in the historic village of Queenston, within the town of Niagara-on-the-Lake, is a collecting and exhibiting art museum open to the public since 1983. Situated in a large country home overlooking the Niagara River, the museum features exhibitions from the renowned art collection of Samuel E. Weir, as well as outstanding artworks on loan from Canadian and international collections. The museum grounds and gardens provide a spectacular view of the Niagara River.
The museum holds approximately 1,400 works in the permanent collection, including paintings, works on paper, sculpture, and decorative arts. The focus of the collection is historical Canadian art, with additional holdings of European art (particularly British and French) and American art. The collection contains works from some of Canada's most significant artists:  Tom Thomson, Emily Carr, the members of the Group of Seven, Cornelius Krieghoff, Paul Kane, and Marc Aurèle de Foy Suzor-Coté.
The RiverBrink Reference Library contains over 4,000 books on fine and decorative arts, history and Canadiana. In addition, the collection includes 500 rare and limited edition books, available for consultation by appointment. These include books such as A New Discovery of the Vast Country in America (London 1698) by Father Louis Hennepin and Travels Through the Canadas (London 1807) by George Heriot.