Sandy Vine and the Midnights
Business Profile
Niagara's Premier Dance Band for Weddings, Private Parties and Corporate Events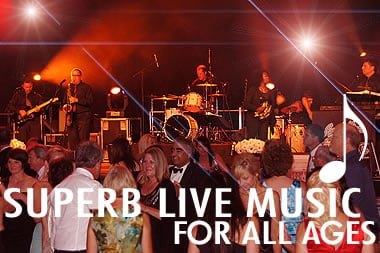 SANDY VINE AND THE MIDNIGHTS have been delighting company party, festival and dance hall crowds with their party dance music for over fifteen years. Their nostalgia influenced sound brings back the best memories of the 1950's to the 1990's, as well as the Top 40 hits of today. If you love to dance, then squeeze onto the dance floor – Sandy Vine And The Midnights will keep you and your guests moving the whole night long!
FAQ (from Sandy Vine, bandleader)
How many people are in the band?
The size of band recommended for corporate events, dances and weddings consists of 5 members with the following instrumentation: keyboardist, two guitarists, drummer and female vocalist. Each male band member also sings. If requested, we can also add a sax player and/or a latin percussionist giving you a choice of a 5 to 7 member group.
How long have you been together?
Sandy Vine And The Midnights have been around since 1988. I personally have 25 years of professional experience as a musician performing at weddings, dances, corporate events, private parties, nightclubs, theatres and casinos.
What styles of music do you play?
We take pride in being able to provide music for almost every age group at any particular function, so if you are looking for variety, you'll be making an excellent choice. We perform material that is in the Top 40 chart of today, right back to the best dance hits from the 1950's to the 90's. We also perform swing styles, ethnic and ballroom styles where requested.
Do you take requests?
Of course – in fact, we encourage it! There is nothing more satisfying to us than being able to belt out a request that fills the dance floor. If we don't know a particular request, then we'll at least try to perform something along the same style or from the same artist.
How long do you play? How many breaks do you take?
Usually, clients will book a four hour block of NON-STOP music for the dance portion of the evening. We would under these normal circumstances take one 30 minute break. We can customize an evening of music based on your specific timing and requirements. "NON STOP" music means that we perform songs seamlessly- one into another so that the dance floor is always moving. No awkward pauses – no idle chatter – just lots of dance music!
It's not going to be too loud is it?
One of our strengths is that we don't have to play loud to make it sound great. We carry a state-of-the-art sound system that stresses clarity – not volume. We run it at just the right volume for the dance floor so that guests can "feel" a part of the music, but can still carry on a normal conversation at their tables.
How much do you charge?
As you can imagine, every event has its own characteristics as to the location, travel time, performance time, and size of band being hired. We will price an event on all of these factors and will make sure that all quotes are given in a clear manner once we get all the relevant information about your event. Don't forget that we also have packages of music that can encompass your entire day – from ceremonies and cocktails to dinner music and dancing. A special note to our American clients: our pricing is quoted in Canadian Funds when your event is held in Canada.
What is the next step if we are interested?
Phone us – we'll check availability and quote you on your particular event. Should you decide to book with us, there is a contract to sign and a deposit to be taken care of to hold the booking date. The return of both the deposit and contract will secure your booking date. Please feel free to contact us with ANY questions you may have about how our live music services will help to make your event a success.