GRIMSBY MOUNTAIN LOOP (38 KM)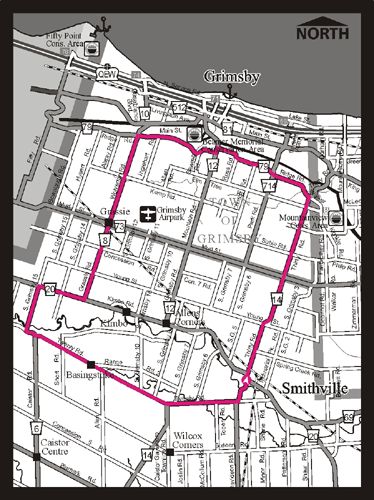 This route takes you through the rolling farmland on top of the Escarpment south of Grimsby. It begins and ends in the town of Smithville – "The Hub of the Niagara Peninsula". Stock up on food and water here because there are no services on the rest of the route. On the north side of the loop, along Ridge Rd. you will be rewarded with magnificent views over the Lake Ontario Plain and, if it's clear, right over Lake Ontario. When you get to Wolverton Rd., look down – this is Wolverton Mountain, a hill to put fear into the best cyclists! (Our route takes you up – only a short distance.) You may encounter some traffic on Regional Road 20, south of Grassie, but it's only for about two kilometres. Otherwise, the roads should be very quiet. Thanks to the RNBC for providing this map.
CLICK HERE TO DOWNLOAD THIS MAP IN PDF FORMAT.
Some of the information presented on this site involves various routes and trails that many Niagara Cyclists use everyday. We can not take any responsibility for any accidents that may happen when using these routes. As always, ride responsibly!