Blackbeards Barber Shop
Work
324 St. Paul St.
St. Catharines
Ontario
Canada
work
Phone
:
905-682-9591
work
Business Profile
A New Traditional Barber Shop
At BLACKBEARDS BARBER SHOP, we offer superior quality in workmanship and customer service. In this fast world, we have slowed things down to bring back personalized service that lets you know you're appreciated.
Walk-ins are always welcome. If you have to wait, at least you'll enjoy your time watching all manner of shows on the big screen TVs that grace our waiting area. Come on in – we're here to serve!
Note: Due to high volumes we can no longer guarantee appointments (except for wedding parties – see below). Our apologies for any inconvenience this may cause.
Rate Card – H.S.T. Free!*
Traditional Men's Cut: $30
Full Shave: $35 (Shave, Lather, Steam Towel, Straight Razor Shave, Face Massage)
Edge Detail (Head, with Clippers): $15
Edge Detail (Face, with Clippers): $20
Kids under 13: $24**
Seniors (Male 65 & Over): $24**
Shampoo: $6
Shoe Shine: $10
Boot Shine: $15
Walk-ins Preferred – We're ready for you!
*Actually, it's included in the price, but you knew that.
** Senior and kids prices valid on weekdays only before 3:00 p.m.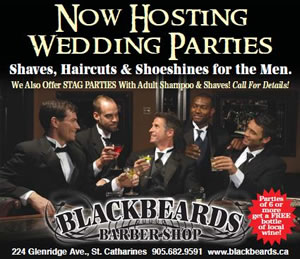 Blackbeard and his crew are ready to serve wedding parties with the traditional haircut and shave services you'd expect at any barbershop.Reservation Deposit is Required.
Please contact us for more details.
Hair Products for Men
Blackbeards is now carrying the full line of LayRite and Reuzal Pomades. We also carry Moustache Wax, Straight Razors, Safety Razors, Beard Oils and Shaving Soaps. Come on in and check out our selection!