PORT ROBINSON LOOP (27 KM)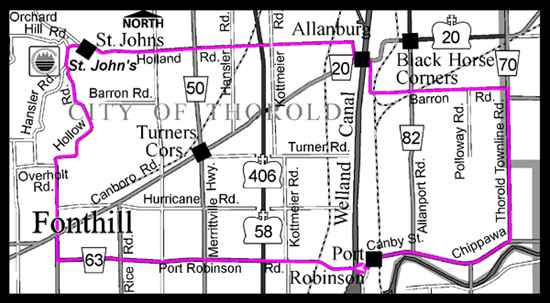 This route takes you across the Welland Canal by ferry, and takes advantage of the sceniC country setting of Fonthill along Hollow Road. After looping back across historical Allanburg, The route finishes on the east side of Port Robinson. Be sure to check ferry schedules! Thanks to the RNBC for providing this map.
CLICK HERE TO DOWNLOAD THIS MAP IN PDF FORMAT.
Some of the information presented on this site involves various routes and trails that many Niagara Cyclists use everyday. We can not take any responsibility for any accidents that may happen when using these routes. As always, ride responsibly!
Serving the Communities of:
Fort Erie | Grimsby | Lincoln | Niagara Falls | Niagara-on-the-Lake | Pelham | Port Colborne | St. Catharines | Thorold | Wainfleet | Welland | West Lincoln
12 Great Municipalities. One Amazing Region. Welcome to Niagara!
The Niagara Guide is a social enterprise with a goal of strengthening Niagara's businesses, community organizations, artists, and more. We do this by sharing stories through The Niagara Guide's online directory, blog, direct email, social media presence, print and podcast channels, and via donations to our Community Partners for each online marketing package we sell.
4 Conroy Crescent
Thorold, Ontario L2V 4R3 Canada
Phone: 289-241-3080
Email: Click Here