Niagara Recreation
There is so much to see and do in Niagara! Most people think of Niagara as this amazing tourism mecca, but living here's really great as well! We have all the benefits of the great outdoors plus a lot of indoor recreational opportunities. There's something for everyone in Niagara! Click on the logos to learn more about our featured recreational opportunities or click on the category links below to find more options.
Business Profile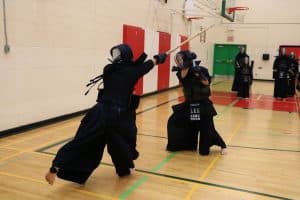 Kendo is a vigorous, full-contact Martial Art derived from the original sword training of the Japanese Samurai. Practiced by millions of men, women and children worldwide, Kendo is growing in popularity in North America.
Kendo in English is broken down as follows: Ken (Sword) Do (Way, or Path). So, translated into English, Kendo is "The Way of The Sword".
The Niagara Kendo Club is run by Sensei Mark Kawabe, a 5th degree black belt who has trained extensively at various clubs in Canada and Japan over the past 25 years.
Kendo training consists of drills which focus on improving co-ordination, strength, breath control and stamina. Beginning students spend their time honing basic strikes both with and without partners. Advanced students wear bogu (armour) and practice basic and advanced techniques with partners. There is always a session of keiko (free sparring) for advanced students.
CLASS SCHEDULE
Class Times: every Tuesday and Thursday from 7:40 to 9:40 p.m.
Location: Welland Martial Arts Centre, 40 Division St. (just east of Post Office on north side of Division)
Students must be age 8 or older.
If you have questions or want to attend a class, please contact Mark Kawabe at 289-241-3080 or drop by the dojo.
The Niagara Kendo Club is generously supported by the following Community Builders:
Mark Kawabe – The Web For Business.com | John Kuehnl-Cadwell – Datawise Solutions Electrical
Serving the Communities of:
Fort Erie | Grimsby | Lincoln | Niagara Falls | Niagara-on-the-Lake | Pelham | Port Colborne | St. Catharines | Thorold | Wainfleet | Welland | West Lincoln
12 Great Municipalities. One Amazing Region. Welcome to Niagara!
The Niagara Guide is a social enterprise with a goal of strengthening Niagara's businesses, community organizations, artists, and more. We do this by sharing stories through The Niagara Guide's online directory, blog, direct email, social media presence, print and podcast channels, and via donations to our Community Partners for each online marketing package we sell.
4 Conroy Crescent
Thorold, Ontario L2V 4R3 Canada
Phone: 289-241-3080
Email: Click Here