Niagara Wedding Caterers
Companies listed below are our Community Builders: They pay to be in The Niagara Guide and a generous portion of their advertising dollars benefits a Community Partner.
Want to add your business to this list? Please click here to add your business to our business directory.
Niagara Gourmet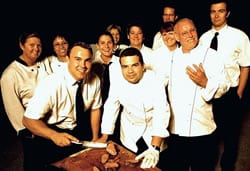 It is Niagara Gourmet's pleasure to assist you in planning and hosting your next Wedding, Cocktail Party, Reception, Dinner, Staff Luncheon, or Business Affair.
A full service catering company, Niagara Gourmet offers expertise in event planning, venue selection, and decoration & display, as well as in the preparation of wonderful dishes that will have you and your guests asking for more.…
Other Niagara Wedding Caterers
Address
454 Mississauga St.
Niagara-on-the-Lake
work
Phone
:
905-262-1668
work
Serving the Communities of:
Fort Erie | Grimsby | Lincoln | Niagara Falls | Niagara-on-the-Lake | Pelham | Port Colborne | St. Catharines | Thorold | Wainfleet | Welland | West Lincoln
12 Great Municipalities. One Amazing Region. Welcome to Niagara!
The Niagara Guide is a social enterprise with a goal of strengthening Niagara's businesses, community organizations, artists, and more. We do this by sharing stories through The Niagara Guide's online directory, blog, direct email, social media presence, print and podcast channels, and via donations to our Community Partners for each online marketing package we sell.
4 Conroy Crescent
Thorold, Ontario L2V 4R3 Canada
Phone: 289-241-3080
Email: Click Here