Featured Niagara Bar Food Restaurants
Companies listed below are our Community Builders: They pay to be in The Niagara Guide and a generous portion of their advertising dollars benefits a Community Partner.
Click here to learn more about our online marketing packages for Niagara businesses.
Rickijo's Restaurant and Bar
There's a Lot of Reasons to Keep Coming Back to RickiJo's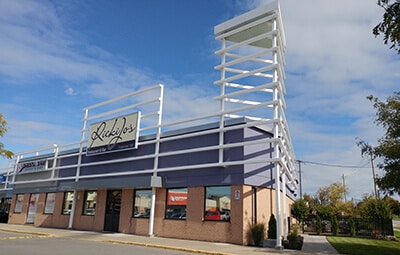 Monday-night football watchers will not be crowded around RickiJo's 70-foot bar this fall, as four new television screens will provide plenty of elbow room for sports-minded patrons. A large screen projector should also delight the cheering section.
Proprietor Tom Markos, who has owned RickiJo's since 1987, has made some big changes in the interior decor of the establishment in the last several years, adding to the comforts and conveniences and generally making things better for customers.…
Other Niagara Bar Food Restaurants
Serving the Communities of:
Fort Erie | Grimsby | Lincoln | Niagara Falls | Niagara-on-the-Lake | Pelham | Port Colborne | St. Catharines | Thorold | Wainfleet | Welland | West Lincoln
12 Great Municipalities. One Amazing Region. Welcome to Niagara!
The Niagara Guide is a social enterprise with a goal of strengthening Niagara's businesses, community organizations, artists, and more. We do this by sharing stories through The Niagara Guide's online directory, blog, direct email, social media presence, print and podcast channels, and via donations to our Community Partners for each online marketing package we sell.
4 Conroy Crescent
Thorold, Ontario L2V 4R3 Canada
Phone: 289-241-3080
Email: Click Here