Featured Niagara Wing Restaurants
Companies listed below are our Community Builders: They pay to be in The Niagara Guide and a generous portion of their advertising dollars benefits a Community Partner.
Click here to learn more about our online marketing packages for Niagara businesses.
Rickijo's Restaurant and Bar
There's a Lot of Reasons to Keep Coming Back to RickiJo's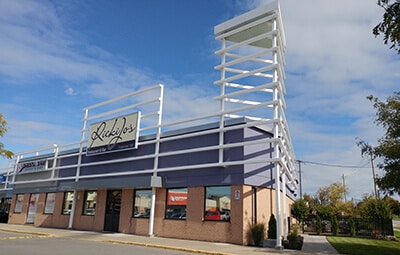 Monday-night football watchers will not be crowded around RickiJo's 70-foot bar this fall, as four new television screens will provide plenty of elbow room for sports-minded patrons. A large screen projector should also delight the cheering section.
Proprietor Tom Markos, who has owned RickiJo's since 1987, has made some big changes in the interior decor of the establishment in the last several years, adding to the comforts and conveniences and generally making things better for customers.…
Other Niagara Wing Restaurants
Is there anything more satisfying than a great chicken wing? I mean, a great wing is a thing of beauty. A properly fried, meaty wing with well balanced spices is one of the most beautiful things life has to offer. Whether you like your wings breaded, dusted, naked, sauced,  or dry rubbed, you'll find a Niagara wing restaurant to suit your taste!
Frequently Asked Questions about Chicken Wings
Q: What are Buffalo wings?
A: From the sound of them, you'd think Buffalo were birds. The Buffalo wing is said to have been invented at the Anchor Bar in Buffalo, New York. It's a simple recipe really, consisting of a deep-fried, unbreaded chicken wing which is then coated in sauce made from melted butter and hot sauce (usually vinegar and cayenne pepper based). From their humble beginnings, Buffalo wings can be found all across the country and indeed, around the world!
Q: What kind of hot sauce is used in a Buffalo wing?
A: I am told that many Niagara restaurants use Frank's RedHot® hot sauce, or something similar to it.
Q: Why are chicken wings so expensive?
A: It's because of demand. Back before chicken wings were a "thing", they were essentially considered scrap meat. Then Buffalo wings came along and the rest is history. Canadians love their wings, demand is high, so prices are higher than you'd think they "should" be. While many of us remember $0.10 wing nights, it's moderately rare nowadays to find wings for under $1 each.
Serving the Communities of:
Fort Erie | Grimsby | Lincoln | Niagara Falls | Niagara-on-the-Lake | Pelham | Port Colborne | St. Catharines | Thorold | Wainfleet | Welland | West Lincoln
12 Great Municipalities. One Amazing Region. Welcome to Niagara!
The Niagara Guide's goal is to share stories of Niagara's businesses, community organizations, artists, and more. We do this through The Niagara Guide's online directory, blog, direct email, social media presence, and podcast channels.
4 Conroy Crescent
Thorold, Ontario L2V 4R3 Canada
Phone: 289-241-3080
Email: Click Here